ECTR | New generation of gantry for the pulling of LWR, the handling of track panels, concrete slabs or sleepers
In order to lay new track with high productivity, the GEISMAR STR rail pulling method has been proven in 2016 to pull two wires of long welded rails from a wagon. Recently, one of the equipment of the method, the tracked gantry crane (ECTR), has been technologically evolved to go beyond the simple laying of rails and to be able to lay sleepers, concrete slabs or track panels.
Currently in operation on the Grand Paris Express line 15 construction site, this technology meets the demand to upgrade the existing equipment and continue the construction of the global rail network at a lower cost.
How to pull and lay long welded rails with significant efficiency?
Allowing the laying of more than 2 km per day with rails up to 432 m long from wagons, the GEISMAR STR method is the new reference for rail laying and renewal worksites. Initially designed in 2016 for the construction of high-speed lines, the rail pulling system (STR) is a unique method that simplifies the organization of the worksite.
Indeed, the added value of the STR at the construction site is given by modularity of the equipment: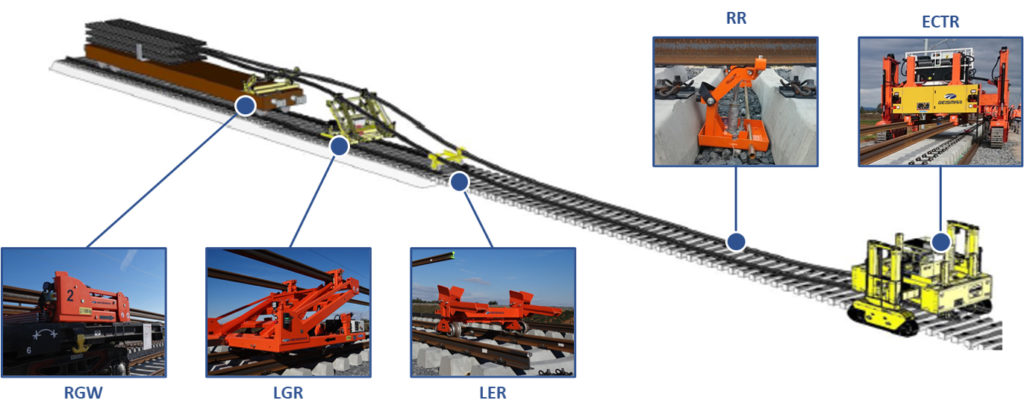 Caterpillar Gantry (ECTR)
Guiding Rollers on Wagon (RGW)
Rail Guiding Trolley (LGR)
Rail End Trolley (LER)
Rail Rollers (RR)
While ensuring maximum safety (radio-controlled equipment, gantry stability, no operators on the wagon, rail guidance), the STR concept and the sequencing of operations ensure high laying performance:
Installation completed in less than one hour;
No need for temporary track (ECTR equipped with caterpillars or rail wheels);
Only one pass during the installation operation;
Autonomous in unloading, transport and installation.

Much more flexible in its use than a laying train and with a greater load capacity than an excavator, the STR method makes it possible to work in sections thanks to its transport by truck or standard wagon.
With a record for laying long welded rails of 3,564 m in one day, this method has, for example, proved its worth in the construction of the high-speed line between Tangier and Rabat in Morocco.
Record battu pour les équipes de la LGV Maroc.
3 564 mètres de pose de voie en une journée ! #rail #maroc pic.twitter.com/mbD6ifsTVU

— Colas Rail (@ColasRail_off) April 25, 2016
What does the new evolution of ECTR bring?
Initially limited to the sole function of pulling long welded rails, a hydraulic beam has been integrated into the ECTR to handle and lay panels, concrete slabs or sleepers, to within 5 mm.
Fully radio-controlled by a single operator, this hydraulic beam is operated in complete safety by means of a removable driver's station mounted on one side of the gantry. A visual assistance on the tablet, with the help of 6 cameras, finally improves the ergonomics of driving.
Pulling and lifting respectively up to 9 and 12 tons of material, the ECTR is therefore a multifunction solution combining safety, efficiency and economy of new track laying. It responds to the trend towards modular worksites (non-branch sections) with equipment for laying panels, rails and additional sleepers, which limits investment.
Currently testing the construction of Line 15 of the Grand Paris Express network, ECTR has some great challenges to meet over the coming months.
---